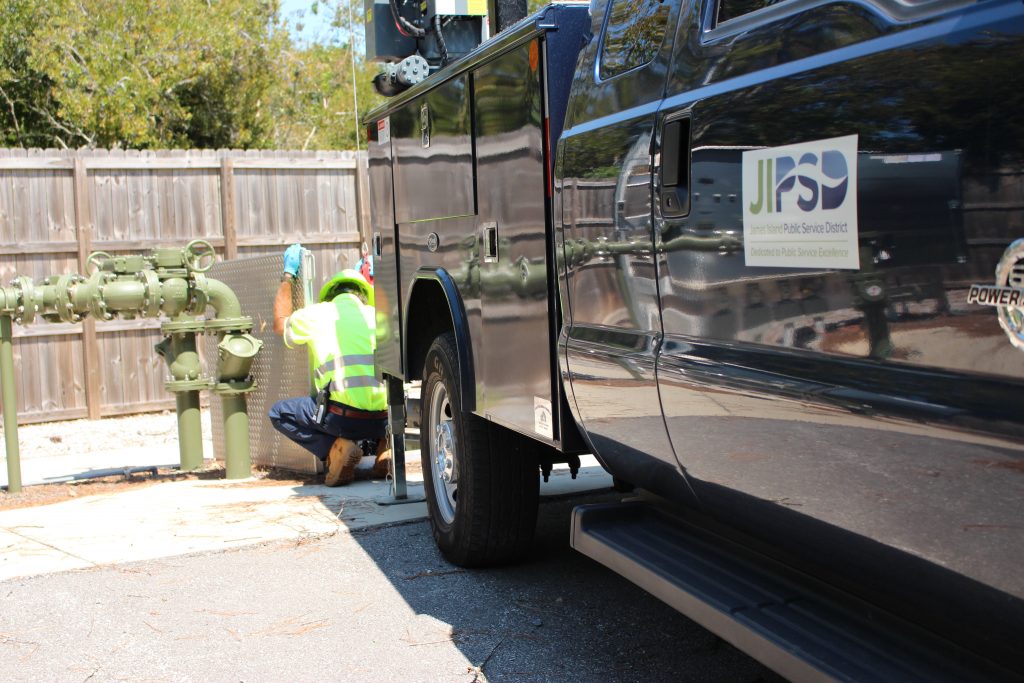 Dependable wastewater collection is critical for our community. The JIPSD Wastewater Department is responsible for maintaining the public wastewater collection system serving more than 13,000 customers. Over 1 billion gallons of sewage pass through the JIPSD's wastewater system annually.
Wastewater services are provided without a single penny of tax dollars from residents. The Wastewater Department operates on income received from wastewater bill payments. The money is used to purchase tools and equipment needed to maintain the system, including vehicles and machinery.
After-hour sewer emergency responders and online bill payment processing allow the Wastewater Department to be at your service 24 hours a day, every day of the year.
Primary Contact
Residential Services
Commercial Services
Developers
Wastewater Ordinances

Projects Under Construction:
(Projects in this category have broken ground and have crews or equipment on site.)
PS#2 Force Main Upgrade & Diversion
Lift Station 2 is a major lift station located on Central Park Road at the intersection of Fleming Road. Currently, wastewater travels from Lift Station 2 to multiple lift stations before reaching the wastewater treatment plant on Plum Island.
This project was needed to reduce the amount of energy used to get the wastewater to the treatment plant while at the same time increase the capacity of the system due to growth on James Island. The project consists of installing 9,400 feet of force main down Central Park Road, crossing under Folly Road, under the James Island Expressway to Harbor View Road and eventually terminating at Harbor View Circle. Minimal traffic interruptions are expected as the majority of this project will be performed off the side of the road.
The project was placed out for bid and awarded to R.H. Moore in the amount of $5,263,756. Construction is expected to be completed by the end of 2019.
Updates:
1. This project is nearing completion of all final Close-Out activities. Discharge from PS-1 and PS-2 was diverted into the new force main in late November; there have been no operational issues at either station related to this project.
2. Pavement repairs and site cleanup are complete in the Quarterdeck Apartments and, a final inspection with the on-site Property Manager is scheduled for Jan. 14th. Pavement repairs in the intersection at Harbor View Circle and a small area in the eastbound lane of Central Park Road are now complete but for placement of pavement markings; a final SCDOT inspection will follow completion of all remaining repair/clean-up work in SCDOR rights-of-way. Additional minor upland filling and mitigation oak tree replanting is scheduled for the week of Jan. 13 at the drill site opposite PS-1 on Harbor View Road.
3. A final deductive Change Order was recently processed and approved by SCDHEC SFR that reduced the total final construction cost of this Project by $306,600.00. This savings resulted in not having to utilize several construction contingency items including additional fill material, aggregate bedding material, and additional asphalt pavement repairs.
SSES Found Projects, Phase I
In 2017 JIPSD conducted a Sanitary Sewer Evaluation Survey (SSES) across the Island. The SSES was used to identify defects in the wastewater system. Using the findings of the SSES, JIPSD has developed a multi-phase rehabilitation plan for the system.
Phase 1 of the project will take place in Westchester and Greencrest neighborhoods as well as neighborhoods off Grimball Road, South Grimball Road, and Grimball Road Extension. Work will include gravity main line cured-in-place-pipe (CIPP) lining, gravity main line point repairs, and manhole structure repairs.
Occasional night work and temporary lane closures are expected.
The project was placed out for bid and awarded to IPR Southeast, LLC in the amount of $309,893.50. Construction is expected to be completed by July 2019.
Updates:
1. Project administrative close-out requirements are anticipated to be completed by late January.
2. The Contractor continues to submit remaining CCTV video logs for inspection. Final no-cost sewer service connection rework is still underway at a few locations. The final site restoration at Thomas Johnson Park was completed in late December.