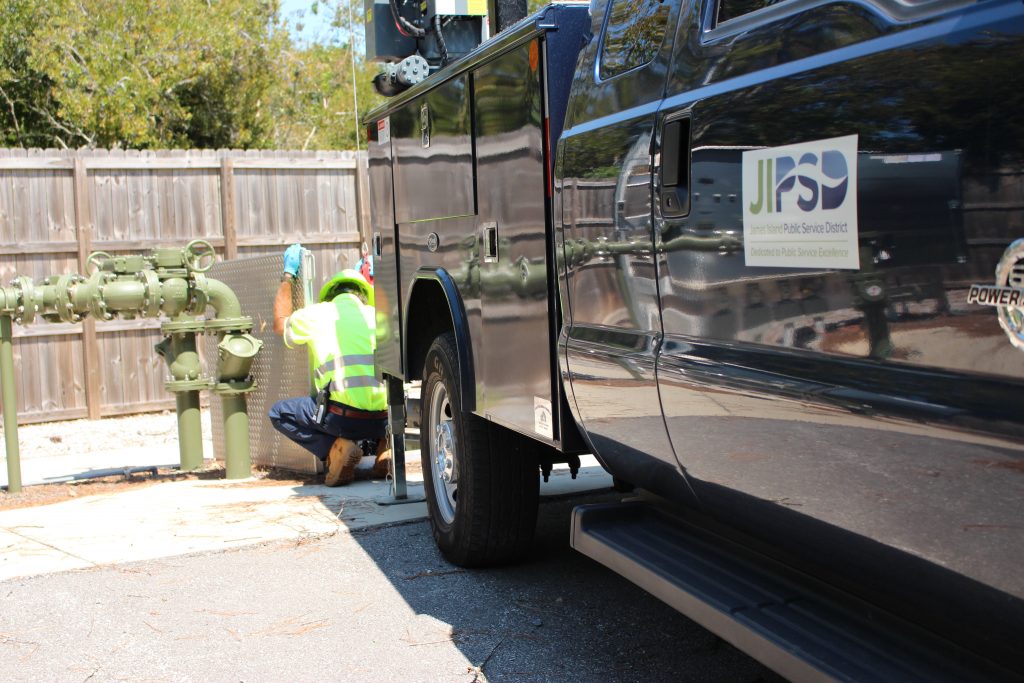 Dependable wastewater collection is critical for our community. The JIPSD Wastewater Department is responsible for maintaining the public wastewater collection system serving more than 13,000 customers. Over 1 billion gallons of sewage pass through the JIPSD's wastewater system annually.
Wastewater services are provided without a single penny of tax dollars from residents. The Wastewater Department operates on income received from wastewater bill payments. The money is used to purchase tools and equipment needed to maintain the system, including vehicles and machinery.
After-hour sewer emergency responders and online bill payment processing allow the Wastewater Department to be at your service 24 hours a day, every day of the year.
Primary Contact
Residential Services
Commercial Services
Developers
Wastewater Ordinances

Projects Under Construction:
(Projects in this category have broken ground and have crews or equipment on site.)
JIPSD Phase-3 PS-2 Upgrade/Conversion, CIP WW2017-3, DHEC SRF PN 543-16:
1. Final site work is essentially complete pending a few remaining items including gate installation. All but one of the Punch-List Items have been successfully addressed.
2. PS-2 is fully operational; actual performance will provide a serviceable ADF of 1.518 MGD, or approximately 20% greater than the minimum required 1.265 MGD design objective stated in the Project's Preliminary Engineering Report . An ADF of 1.518 MGD equates to approximately 5,060 ERU's.
3. A final site inspection is scheduled during the week of October 12th. As-Built Record Drawings are also to be delivered the week of October 12th. A final Certificate of Construction has been requested from the County Building Department. The unconditional SCDHEC Permit to Operate will be issued by following their receipt of Record As-built Drawings.
4. Project administrative close-out is scheduled to be completed before November 1st.
JIPSD PS-22 & PS-34 Upgrade Project, CIP WW2019-2, DHEC SRF PN 543-17:
1. Both PS-22 and PS-34 have been returned to operational service and have received Certificates of Completion from the Charleston County Building Department and Final SCDHEC Permits to Operate.
2. One remaining gate related punch list item remains to be satisfied at PS-34 before processing of the Final Payment Request.
3. Final Project close-out is anticipated before December 31st.
PS-1 Downgrade/Conversion Project WW2017-2 SRF 543-18:
1. Construction of the PS-1 Project is now underway; demolition is scheduled to be completed in early February, weather permitting.
2. Wet well repairs and Concrete placement is scheduled to be completed in Mid-March.
3 Start-up testing, substantial completion, and return to operational service is currently scheduled for Mid-April.
4. The start of construction of this project has been delayed by building permit delays within the Charleston County Building Dept. and a recent sewer failure and cave-in located adjacent to the PS-1 site.
JIPSD Phase-2 & 3 Wastewater Collection Rehabilitation Project, WW2018-1, SRF PN 543-19:
1. Preconstruction administrative contract execution and material submittals are essentially complete.
2. A Preconstruction Conference was held on December 7th; a Notice to Proceed was issued effective December 14th.
3. Initial activities will include line cleaning and CCTV inspection prior to commencement of CIPP lining activities.
PS 33 Upgrade Project, JIPSD CIPWW2021-01, SCDHEC SRF PN 543-21:
1. Preconstruction administrative activities are complete and material submittal and review is scheduled to be completed by Mid-January.
2. Contractor's building permit acquisition with the Charleston County Building Department is currently being processed.
2. A Preconstruction Conference will be held in early February followed by a Notice to Proceed with construction in Mid-February.