Sewer gravity main line smoke testing will take place July 19- August 25 on James Island, throughout the designated area displayed on the map below. Streets that will be affected by the smoke tests are: 
First Group (shown below in red): 
Briarfield Av, Camp Rd, Chicorie Way, Dills Bluff Rd, Encampment Ct, Francis Marion Dr, Gettysburg Dr, Grand Concourse, Harbortowne Rd, Hermitage Av, Hillman Rd, Mount Vernon Dr, Ravenswood Dr, Regatta Rd, Ronald Ln, & Stillwater Dr.
Second Group (shown below in orange):
Arborwood Dr, Ashworth Ln, Aylsford Ct, Bass Ln, Bellwood Rd, Bermuda St, Bertha Bryant Rd, Biltmore Dr, Bishop Gadsden Way, Bradford Av, Brantley Dr, Bresee St, Brookbank Av, Brown And Smith Ln, Camp Rd, Carlisle Rd, Cedar Hill Rd, Centerwood Dr, Chandler St, Chesire Dr, Combahee St, Commercial Row, Cornish Av, Crestwood Pl, Deek Ln, Deene St, Devons Av, Dill Av, Downer Dr, Downwood Pl, Driftwood Dr, E Witter St, Enoree Ln, Eugene Gibbs St, Farmington Rd, Fields Cir, Folly Rd, Forde Row, Fort Johnson Rd, Freer St, George Griffith Blvd, Gilbert St, Gunpowder Ct, Hale St, Hepburn St, Highland Av, Honeysuckle Ln, Hunley Av, Inland Av, Ivy Isle Dr, Jordan St, Julia St, Kemper Av, Kentwood Cir, Kingswood Dr, Kittredge Dr, Lady Ashley St, Lady Cooper St, Lady Jordan Ln, Landsdowne Dr, Lynton Av, Mapleton Av, Meander Row, Mellichamp Dr, Mellowood Pl, N Mayflower Dr, Newbury St, Oakcrest Dr, Oyster Point Row, Patterson Av, Pauline Av, Penwood Pl, Pittsford Cir, Prescott St, Quay Cir, Renwood Dr, Rivercrest Dr, Riverland Woods Pl, Rivers Point Row, S Mayflower Dr, Sabrina Cir, Santee St, Saxony Dr, Secessionville Rd, Sexton Dr, Shandon St, Shoreham Rd, Short St, Silver Leaf Cir, Sprague St, Starwood Ct, Sutton St, Swamp Fox Ln, Turkey Pen Rd, Valley Rd, Vardel St, Walsingham Way, West Madison Av, Wilton St, Witter St, Woodside Dr, & Yorktown Dr.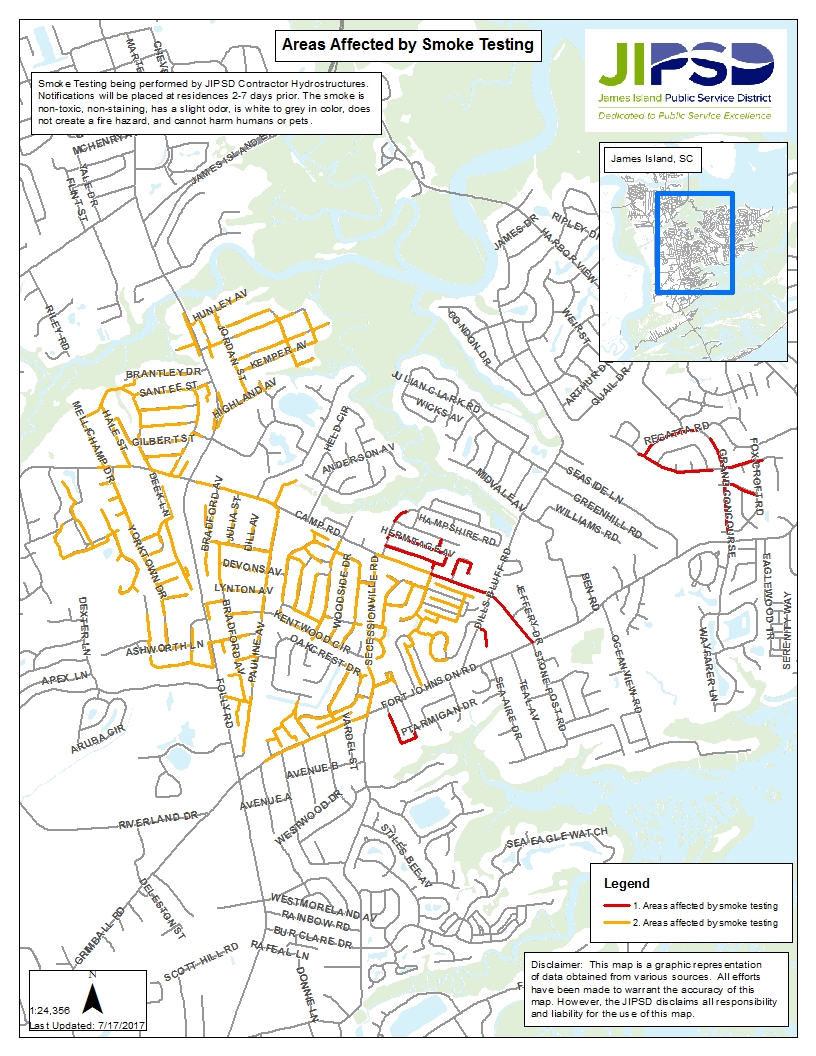 What is Smoke Testing?
Smoke testing is a method used by utilities to check for infiltration of rainwater into a sanitary sewer system. Smoke is introduced into the wastewater system and observations are made to detect potential areas of concern. Smoke coming out of the ground will show us where there may be a defect in a line or where a clean out cap may be damaged or missing. Smoke testing is very important to our ongoing operations to keep our system in good condition. The smoke is non-toxic, non-staining, has a slight odor, is white to grey in color, does not create a fire hazard, and cannot harm humans or pets.
When will Testing Occur?
The JIPSD will be conducting testing around James Island beginning February 2017 and lasting through Fall 2018.
Will I Receive Notification Before My Neighborhood is Tested?
Yes, a notice will be placed at residences 2-7 days before testing will occur.
What Should I Expect?
As smoke runs through the system, it is normal for the smoke to escape from the vent on your roof. If you experience any smoke inside your home, it is indicative of a plumbing issue within your home and should be addressed with a plumber to make sure sewer gasses are not escaping into your home.
What is normal:
• Smoke from roof vents or manholes.
What is not normal:
• Smoke inside or under your home- can indicate issue with plumbing.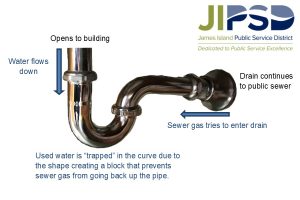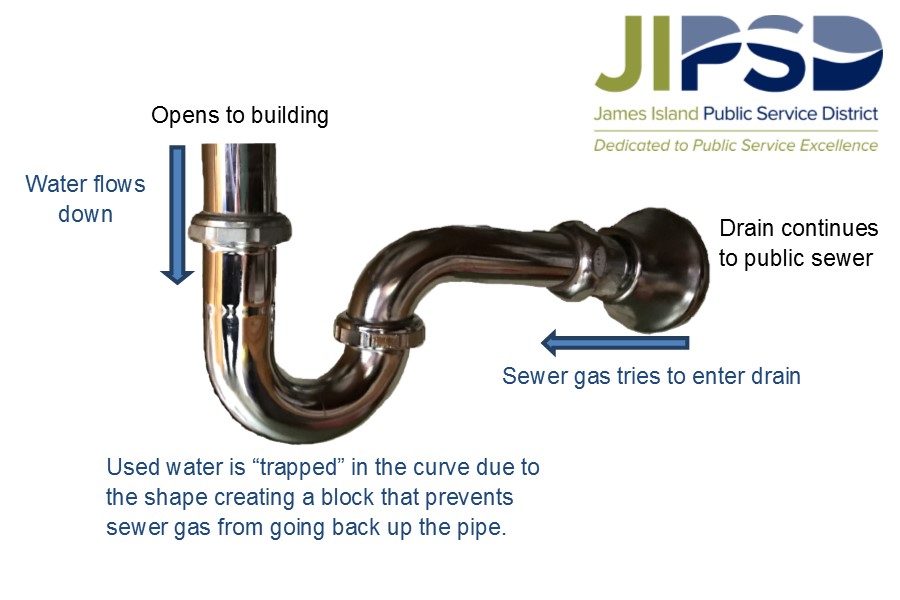 • Smoke from roof gutters- can indicate an improper drainage connection.
• Smoke out of drain- can indicate a dry water trap or no trap present (see picture at right).
• If you think there is an emergency- please call 911!
Quick Tips:
There is no need for you to be home during the test.
If you think there is an emergency, please call 911!
If you have any drains that are used infrequently, it is important to run water in those sinks before the smoke testing is being performed (at least a gallon). This will fill your water trap and prevent smoke and sewer gasses from entering your home.
If you have questions or concerns, please contact Wastewater Services at (843)762-5258.