Sewer gravity main line smoke testing will take place April 24- May 19 on James Island, throughout the designated area displayed on the map below. Streets that will be affected by the smoke tests are: Aaron White Ln, Amos Ct, Anchor Rd, Arthur Dr, Beasleys Ln, Ben Rd, Birchdale Dr, Blockade Ln, Bob White Dr, Briarfield Av, Bright Ct, Camp Rd, Cecil Cir, Cedar Hill Rd, Center Villa Ln, Champaigne Ln, Chicorie Way, Chuka Ct, Clover Leaf Ln, Condon Dr, Cornwallis Dr, Cottage Rd, Darwin St, Dawn Dr, Dills Bluff Ct, Dills Bluff Rd, Driftwood Dr, East And West Rd, Encampment Ct, Farmington Rd, Five Oaks Dr, Fort Johnson Rd, Fox Croft Rd, Francis Marion Dr, Gettysburg Dr, Godber St, Grand Concourse, Greenhill Rd, Gunpowder Ct, Hampshire Rd, Harbor Woods Cir, Harbortowne Rd, Hepburn St, Hermitage Av, Hillman Rd, Honey Hill Rd, Honeysuckle Ln, Jeffery Dr, Jim Isle Dr, Julian Clark Rd, Keely St, Landsdowne Dr, Laurel Leaf Ln, Lemontree Ln, Longwood Ln, Mcelveen St, Midvale Av, Mill Point Rd, Misty Lake Dr, Montgomery Rd, Monticello Dr, Mooring Dr, Mount Vernon Dr, N Channel Ct, Nabors Dr, North And South Rd, Oceanview Rd, Old Orchard Rd, Oxbow Dr, Pemberton Farms Ln, Peregrine Dr, Ptarmigan Dr, Quail Dr, Ravenswood Dr, Red Gate Rd, Regatta Rd, Rembert Rd, Revere Rd, Ronald Ln, S Channel Ct, Sea Aire Dr, Seafarer Way, Seaside Ln, Sigsbee Rd, Simpkins St, Stillwater Dr, Stillwater Pl, Stone Post Rd, Swamp Fox Ln, Teal Av, Trenholm Dr, Valley Forge Dr, W Darwin St, W Oceanview Rd, Waxwood Ln, Wellington Dr, West Capers Rd, Whitehouse Blvd, Williams Rd, Winborn Dr, Windrush Ct, Wyndham Rd.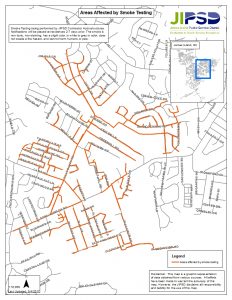 What is Smoke Testing?
Smoke testing is a method used by utilities to check for infiltration of rainwater into a sanitary sewer system. Smoke is introduced into the wastewater system and observations are made to detect potential areas of concern. Smoke coming out of the ground will show us where there may be a defect in a line or where a clean out cap may be damaged or missing. Smoke testing is very important to our ongoing operations to keep our system in good condition. The smoke is non-toxic, non-staining, has a slight odor, is white to grey in color, does not create a fire hazard, and cannot harm humans or pets.
When will Testing Occur?
The JIPSD will be conducting testing around James Island beginning February 2017 and lasting through Fall 2018.
Will I Receive Notification Before My Neighborhood is Tested?
Yes, a notice will be placed at residences 2-7 days before testing will occur.
What Should I Expect?
As smoke runs through the system, it is normal for the smoke to escape from the vent on your roof. If you experience any smoke inside your home, it is indicative of a plumbing issue within your home and should be addressed with a plumber to make sure sewer gasses are not escaping into your home.
What is normal:
• Smoke from roof vents or manholes.
What is not normal:
• Smoke inside or under your home- can indicate issue with plumbing.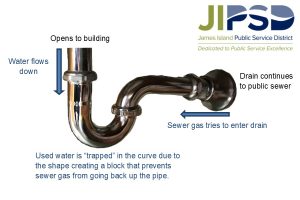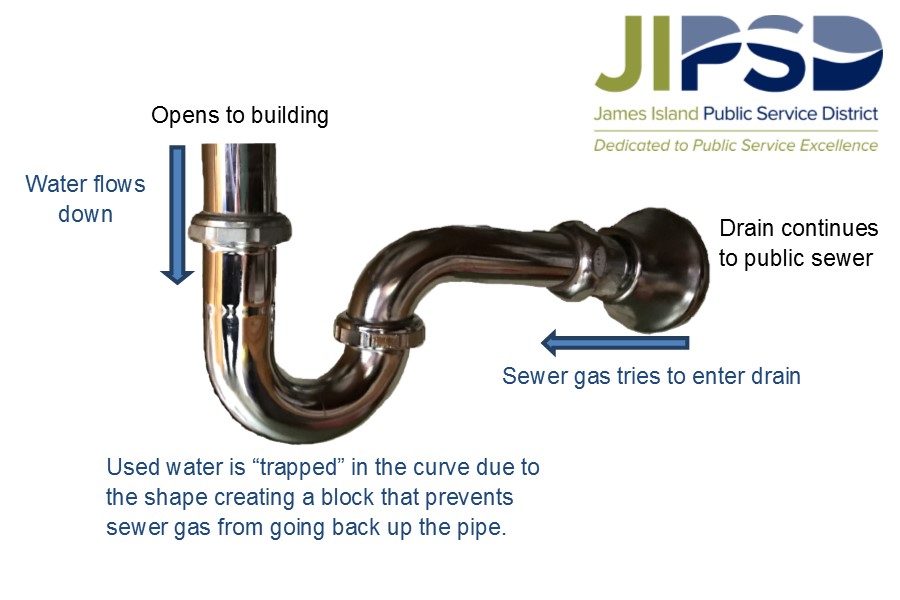 • Smoke from roof gutters- can indicate an improper drainage connection.
• Smoke out of drain- can indicate a dry water trap or no trap present (see picture at right).
• If you think there is an emergency- please call 911!
Quick Tips:
There is no need for you to be home during the test.
If you think there is an emergency, please call 911!
If you have any drains that are used infrequently, it is important to run water in those sinks before the smoke testing is being performed (at least a gallon). This will fill your water trap and prevent smoke and sewer gasses from entering your home.
If you have questions or concerns, please contact Wastewater Services at (843)762-5258.