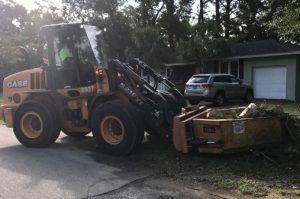 Garbage collection has returned to the regular Monday – Thursday schedule. Debris pickup is continuing throughout the island, and we appreciate your patience during this recovery process. We are completing Wednesday's route this morning and beginning on Thursday's route.
Please remember to separate your man-made debris from your yard debris and ensure branches, wood, etc. are no longer than 6 feet.
• On average, we collect 90-110 tons of yard debris per week.
• Last week, we picked up over 325 tons of yard debris.
• Yesterday's total tonnage collected was over 85 tons.
Please check back daily for updates on our team's progress!